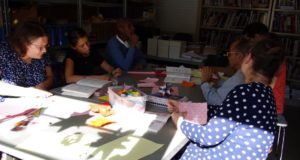 Since September, the association's office is now open to all its members every Wednesday from 2PM to 5PM.
This new opening time mainly focuses on reading diagrams and is managed by Raymonde Bonnefille.
This meeting aims both beginners and people who like complex folds and has a twofold organization:
From 2PM to 4PM: folding from a diagram. It's the opportunity to release some of the thousands books of the orithèque from their slumber.
From 4PM to 5MP: folding "altogether" a common model that has been discovered and folded by one of the participants.
To participate, it is mandatory to have your membership up to date and minors must be accompanied by an adult.
You can find all our opening hours at the following webpage: The association office.