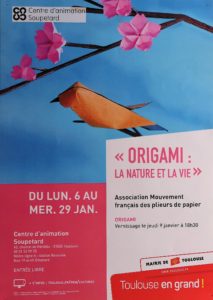 The local section of Toulouse is happy to offer, from january 6th to 29th, at "Centre d'animation Soupetard", an exhibition of its origamis.
The paper artists want to pay tribute to the nature's beauty. Each year, new origami models that mimic animals and landscapes of our planet emerge. Simple, ingenious or funny and sometimes virtuoso, these creations quietly live in our daily life.
The books are easier and easier to find and new origami enthustiasts starts to fold.
Feel free to come to discover the numerous variations around the theme of the bird, the flower and many other living creatures from all countries.
Vernissage on January 9th 2020 at 6:30PM
Further information is available on toulouse.fr (in French)