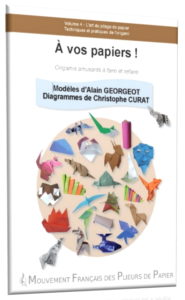 24 models from Alain Georgeot, diagrammed by Christophe Curat. The 4th issue of the "Art of paper folding" went to press.
It will be available during "rencontres de mai" but it is already possible to pre-order it.
Born in 1952, I was hoping to make a career in literature. I was certainly a worker! Since then, I have travelled to 105 countries and met people who often had the same existential problem as I: being humbly oneself, but also being a little acknowledged, in order to justify one's presence on earth! Origami allows this!
I have been practicing origami since 1983, thanks to Akira Yoshizawa and Jean-Claude Correia, and it has given me the chance to meet exceptional and very "ordinary" people.
I have learned a lot from both. Multiple sclerosis, paradoxically, helped me too.
And also helped by my wife Dominique, who at the time of dying said: "I love you all!".
She even added for me: "Live with a Smile, Love, Courage‡!".
I suggest you put that in your bag! And origami will be your faithful companion, like another you!

Alain Georgeot
‡: in the original French, the first letters of "Sourire, Amour, Courage" spell the word SAC, which means 'a bag' in English.