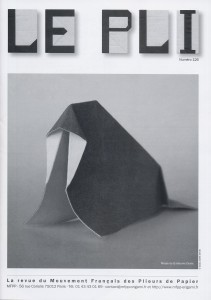 Articles
Les trésors de l'Orithekh de Christophe Curat
Fabrication de papier sandwich de Jean-Michel Lucas
Pourquoi le papier d'origami fait-il 15 cm de côté ? de Koshiro Hatori (traduction de Jean-Christophe Hélary)
Plier avec les enfants de Pondichéry d'Alain Georgeot
Diagrams
Ours polaire de Sébastien Limet
Manchot d'Adrien Boussicault
Morse de Guillaume Denis
Editorial : Serving Origami
Since September, the visitors of the MFPP's Internet site can discover the list of covers and contents of our Le Pli magazine issues since 1979. These are a window on the life of our organisation dedicated to origami and a precious source of information for those who are still today serving origami at the MFPP. In what manifold ways can a non-profit organisation really serve Origami today?
Library and archives
Last August, during a whole week, a small team of volunteers led by Christophe Curat, currently secretary of the MFPP, drew up the inventory of the Oritheque and archives, at our headquarters rue Coriolis in Paris. Discovering forgotten treasures and fixing books as they went. Following the steps of all those who took turn on this task such as Olivier Viet and Michel Grand, or still Loretta Tsai and Jeanine Huet, these folders have contributed to preserve the MFPP's most precious heritage. You'll find a detailed and quantified account in this issue.
On manufacturing the appropriate kind of paper
French folders are not always skilled at DIY. So here is an appendix that we would like to find with many a diagram : the recipe for sandwich paper suggested by Jean-Michel Lucas will certainly be of help in many cases.
Discovering rising French talents
We also have the pleasure to introduce here a creation by Sebastien Limet. An artist who came to origami very recently from sculpture (his first public exhibition was in 2011). His style is well known over the Internet. As a member of the Francophone Paperfolders' forum, he regularly contributes his part to the design challenges (see presentation in Le Pli 124-125) as they foster his creativity. Sebastien Limet seeks to confer volume and life to his pieces, in using simple folding sequences that flow smoothly. He himself drew by hand the diagrams that you will discover here.
Sharing Origami in far away countries
Alain Georgeot gives us a first-hand short and valued account of his journey, in which we will see children of Pondichery folding despite severe lack of material means.
Read and Translate
Has it never happened to you to be devoured with curiosity while flicking through the pages of the wonderful Origami Tanteidan Japanese magazine? In this issue, you will find a very first integral translation of the original article by Koshiro Hatori published in May'12 in Origami Tanteidan 133, in which you will learn why "kami", distributed the world over, always measures the standard 15x15 cm. This text was translated by Jean-Christophe Helary, a newly registered member of the MFPP currently living in Japan, and is published here with the kind permission from the JOAS.
Three original diagrams by French folders
A few months ago, the MFPP launched an appeal to French creators on the "Polar" topic. This was well echoed on the Internet forum, and for our greatest pleasure, Guillaume Denis, Adrien Boussicault and Sébastien Limet have responded with a walrus, a penguin and a polar bear.
I wish you a good read, happy folding,
We will be back very soon,
Viviane Berty.