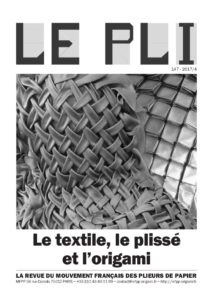 Contents
Textile, pleated and origami by Christophe Curat

What is the origami experience? by the group "orilyon"

Origami, a promising new direction in art therapy by Larysa Osadchuk

Draw easily, freely and methodically his diagrams by Éric Vigier

The cocotte stamped by Michel Grand

The giant structures of Liang Haisheng by Jean-Jacques Delalandre


Where to fold in France
Diagrammes
Squirrel by Edwin Corrie


Kay's Dahlia by Kay Eng




The swallow of Eric Vigier
Online supplement
Editorial
As the year 2018 begins, you hold in your hands the last issue of the year 2017. Time for the association to thank you for your support and invite you to renew it with your membership fee, which you can settle in online or by mail. You can also pay directly by registering for the May Meetings.
Registrations for our annual meeting indeed are open. The meetings of Aix-les-Bains promise a beautiful moment. We will have the great pleasure of bending together with our five guests: Dave Brill and Assia Brill, Alessandra Lamio, Nicolas Terry and Eric Vigier. Go to the page announcing meetings on the website to rediscover them and especially to register for these four days. Do not wait to book your accommodation: Aix is ​​a city run this season.
At the end of 2017, the association launched on the web the Origamiscellanées of Alain Georgeot in the form of a blog. As its title of miscellanées indicates, it is a collection of fragments on origami written by Alain, or translated and readapted by other authors. Tribute to the history and diversity of origami, it is also for the association a nod to Alain, his warm presence and his personality. You can read it on http://blogs.mfpp-origami.fr/origamiscellanees and register to receive the next articles by email.
Aurèle Duda
Online supplement

Vous devez vous enregistrer comme adhérent pour télécharger le supplément en ligne.