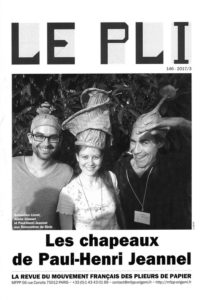 Contents
The 50th anniversary of the British Origami Society by Chantal Prestat

Marcoussis meetings by Jean-Jacques Delalandre

Three countries and many boxes by Valérie Bigueure and Aurèle Duda

The Fröbélienne influence on the Chinese paper folding by Xiaoxian Huang and Joan Sallas


Genesis of 170,000 Leprechauns by Paul-Henri Jeannel




My little adventure in the wonderful world of origami by Raphaël Maillot




The local currency Stork by Aurèle Duda



Land animals Origami by Tuan Tu Nguyen by Viviane Berty

The doves by Patrice Reytier


CfC (Convention for Creators) Lyon 7-9 July 2017 by Viviane Berty




Where to fold in France
Diagrammes
Olympic Rings by Edward Holmes

Leprechaun hat by Paul-Henri Jeannel

The Whale and Raphael Maillot's boat

Hedgehog Viviane Berty


Rabbit in a hat by Edwin Corrie




Stork Aurèle Duda
Supplément en ligne
The British Flag de Mick Guy
Union Jack of Jacques Justin
Éditorial
While Paper Secrets, the exhibition at the Maison de la magie in Blois, has attracted a hundred thousand visitors, autumn is the second season of the folding weekend: "Marcoussis meets paper folding machines <span title="», les « Rencontres des trois pays » en Alsace, les « Rencontres des deux Charentes », et d'autres encore, plus locales.
">», The« Encounters of the three countries »in Alsace, the« Encounters of the two Charentes », and still others, more local.
If one could believe a few years ago to desertion of these high points to refer to the internet, it seems that there is a renewal, and that the folders are trying to establish direct contacts in these meetings . Indeed, they are more and more numerous, members of associations and exteriors, ready to come from afar to attend collective works workshops, or to share their moments of conviviality. Folding is no longer the confidential activity of some enthusiasts,
<span title="mais bel et bien une pratique artistique en passe d'être reconnue, et pour le moins connue.
">but indeed an artistic practice in the process of being recognized, and for the least known.
The efforts made by the organizers of these meetings bear fruit, and participate in the promotion of folding. <span title="Je tire mon chapeau à tous ces bénévoles acharnés qui se donnent tant de mal pour préparer ces journées toujours trop courtes, mais qui participent grandement au développement de notre passion.
">I take my hat off to all those hard-working volunteers who go out of their way to prepare these days that are always too short, but which greatly contribute to the development of our passion.
Jean-Jacques Delalandre
Online supplement

You must register as a member to download the supplement online.