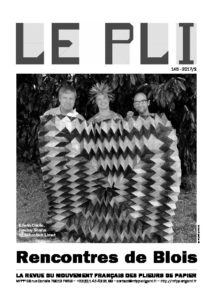 Articles
The four pigs by Michel Grand




The Blois Meetings




The Hat Lesson by Paul-Henri Jeannel




Coriolis Street by Patrice Reytier
Diagrammes
Ammonite after Tomoko Fuse by Paul-Henri Jeannel

Sparrow Alain Georgeot

Aircraft type Rafale Éric Vigier


Hat of M of Michel Grand
O

nline supplement
Trumpigami 3 modeles de Nick Robinson
Éditorial
This issue of the Pli offers a photo review of Les Rencontres de mai blésiennes. We will come back to this event, especially on the exhibition at the House of Magic. If you wish to contribute a word, the address of the editorial magazine is just under the summary.
For those who have missed the event, you still have to program a stay in Aix-les-Bains, from May 10 to 13, 2018, to celebrate together with dignity the 40 years of the association.
Until then, you can fold the models presented in the new volume of the collection The art of folding paper that the association has released during the Rencontres. Origami of the living. Bends of the moving, swimming or flying world, it is 19 folds of style and variable difficulty to discover and to bend. It is also an opportunity to support the association by ordering it for you or your folding friends. A purchase order is attached to this number and available online.
Still waiting for 40 years, you can also bend to Marcoussis on October 8th during the 3rd Paper folding day, or at the Rencontres des Trois Frontières in Alsace on October 14th and 15th, or meet you in a workshop or other event. you will find the information on the penultimate page of the issue. And if you go to one or the other, think about writing a little word and a photo for your magazine!
This issue is an opportunity to discuss satirical folding, with an article by Michel Grand and the digital supplement dedicated to Nick Robinson's Trumpigami. You can fly as a bird or jet to the warmer skies or take the rabbit off the hat before styling to protect you from the sun in this summer.
Happy reading and happy holidays!
Aurèle Duda
Supplément en ligne

You must register as a member to download the supplement online.