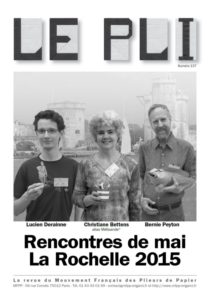 Articles
Rencontres de mai à La Rochelle par Fabrice Mouhartem
Art, thérapie et diffusion de l'origami par Bernie Peyton
À la rencontre de Lucien Derainne
L'équipage de La Rochelle
Le Petit oiseau par Ángel Morollón
Diagrams
Moule de Bernie Peyton
Coureur de Lucien Derainne
Baleine de Jean-Michel Lucas
Petit oiseau d'Ángel Morollón
On line supplement
Les Vagues de La Rochelle: canevas de plis et diagrammes de vagues présentées lors de l'exposition collective des Rencontres de mai.
Les vagues de La Rochelle de Jean-Francis Dupoirier
La Vague d'Elena Divina
Les Vagues de Jong Allegraud
La Vague de Robert Loubet
Editorial : Lets find a new breath!
Elected as president of the MFPP at the latest Rencontres de Mai in La Rochelle, I would like first of all to thank the board of administrators for the trust they grant me and the team for the work accomplished.
These Rencontres de Mai have once again been a great success, and I pay tribute here to the organizers who did not spare their time or energy to measure up.
I particularly acknowledge the quality of the performance offered by our guests, Bernie Peyton, Christiane Bettens, and Lucien Derainne, who made us dream, and shared with us their universe.
For the next Rencontres nothing is fixed yet. We are currently exploring various possibilities, and will be able to tell more after the summer holidays. In this respect, I strongly invite those who would like, one day, to organise meetings, to start moving well in advance, a 2-year delay for this kind of event doesn't seem luxury.
However, all is not so bright. Today the MFPP is going through a rough time, and it needs each one of us to get the new impetus it needs.
Indeed, the Web radically transformed our environment and our ways of living, thinking and acting. We find everything on the Internet, the best and the worst, and as regards our common interest, even if it represents a true factor of promotion, copyrights are shamelessly disregarded or ignored, books pirated without remorse, not forgetting diagrams, photos and video that proliferate on the net.
Of course the Internet allows us to see that we are not alone, and to connect with folders around the globe. Discovering new styles, new technologies, has become easy but there is a downside, and the advantages of joining an association have considerably decreased over the last years.
The services provided by an association are either outdated, ill-adapted to our new environment, or not widely known. For example, the book lending service of our Orithèque faces rough competition from on-line shops. Shipping costs are, in some cases, higher than the cost of the book bought directly. Yet it does contain priceless treasures.
I am convinced there are solutions and we can bounce back. For that purpose, the MFPP must be a driving force, show that it exists and that it cannot be overlooked. We must set out on a mission, fight against the loss of members, promote the group and improve its visibility.
Admittedly, we have the Rencontres de Mai, which are a splendid gathering, and Le Pli, of a reputable quality, yet there is still a lot to be made in particular in communication and promoting our actions.
In the coming weeks, I will propose a certain number of actions aimed at spreading information about our association :
quarterly one-day meetings, in different venues. A potential meeting is already planned at the Château du Clos in Marcoussis (south of Paris) in October, the final date remains to be decided.
the Origami Days, during which I will ask each one at his/her level to participate and to promote our association. During one day, fold and distribute models, around a bar table, in the underground, and spread the word about the MFPP. Inform local radios, newspapers, forums, social networks… It is possible that the first year we will not get a wide audience; I remember that the first Night of the Martial Arts in which I took part in Coubertin stadium, Paris, gathered only a very limited number of participants. Today, the success of the event is common knowledge. It may indeed seem ambitious, but if we want a long lasting MFPP we should do everything in our power to develop it.
A few projects are emerging for this purpose :
the production of educational booklets
on-line publication of the list of items for sale to members in our Papeterigami
the continuation of an existing series of booklets with "Pliages 5" and "Pliages 6"
Nothing, however, can be achieved without you. Therefore, I invite you to share with us your expectations, wishes, ideas, proposals… I will make it a point of honour to answer each of you and to implement the most pertinent proposals.
Meantime, until the Rencontres 2016, let's meet in the following Le Pli and on mfpp-origami.fr.
Jean-Jacques Delalandre,
President