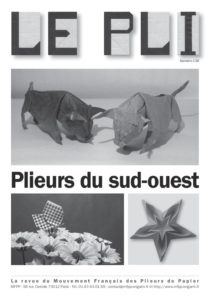 Articles
Entretien avec Carmen Sprung
Généralisation de l'Étoile Vanda de Carmen Sprung par Jong Allegraud
Jacques Arcambal
Petit monde de papier par Joan Sallas traduit de l'allemand par Michel Ronsseray
Diagrams
Étoile Vanda de Carmen Sprung
Généralisation de l'Étoile Vanda de Carmen Sprung de Jong Allegraud
Taureau de Jacques Arcambal
Papillon qui butine de Viviane Berty
Online supplement
Extracts of the book Origami - 21 sterne by Carmen Sprung.
Editorial : Why join a paper-folders' association?
At the age of Internet, of total freedom to communicate and publish photographs, why pay a membership fee to an association? Why engage in a non-profit volunteers' association?
The Challenge of Creation on Pliagedepapier.com, the francophone Internet forum
Every month on the francophone Internet forum, as on other such forums abroad, a friendly challenge is laid down for paper-folders : the creation of an original model based on a given theme. Sébastien Limet, worthy ambassador of the French Origami abroad, and Lucien Derainne, a young talent who will be our guest at the Rencontres de Mai in La Rochelle, have both emerged from these Internet games. I have myself been taking part for a few months, and I have been able to observe a few things, in the manner a traveller or explorer of the olden times 🙂 A feeling of freedom and "everything free of charge" prevails in these virtual spaces. In a spontaneous jumble of swift exchange of photos and messages, ideas and rough drafts move around, in an emotional and passionate climate quite beneficial for creation. However, very few diagrams, very few elaborated publications arise directly from these games. In order to complete a publication, only professionals or volunteers' organisations offer the needed perseverance and long term focus.
You will find in this issue the diagram of a butterfly that I drew 18 months ago after taking part in the creation challenge on the forum. I have been able to improve it in the course of time thanks to the support of folders that I met at convention or members of the MFPP. It is the outcome of a small spark in an Internet game and a lot of diligent work afterwards. It is in a selfless intention, as a hobbyist paper-folder surrounded by similar enthusiasts, that I have the pleasure to present this little model here.
International gatherings of paper-folders
In order to make paper-folders meetings a physical reality, it has been amply demonstrated that a registered organisation is very useful. We are featuring Carmen Sprung in this issue, and also an enthusiast paper-folder from Toulouse, Jong Allegraud, who proposes a system of variations for a star from Carmen, with supporting diagram and explanation. A dialog that unfolded within an association.
Portrait of a paper-folder
We have the pleasure to present a recent diagram of a Bull by Jacques Arcambal. Jacques has been a member of the MFPP for over 30 years. He published numerous diagrams and drawings in the first issues of our magazine.
Past, present and future of origami
Le Pli aims at uniting all ages of origami, in an attempt to better know this/our field. Joan Sallas tells us the story of an old book, in the interest of finding new ideas!
Life in an association
Why be a member of a non-profit association?
1- To enable this organisation to exist.
2- To be able to carry out long term projects.
This is not irreconcilable with the Internet. The proof is that the MFPP also maintain its web site.
We want that the MFPP exists, and we need it. However, it cannot continue to exist in the same configuration, it must also develop. The board of administrators is currently debating on the shape this development should adopt. In particular, a decision has to be made about the premises we are renting in Paris as headquarters of the MFPP. The lease agreement was signed when we counted 425 members. Can we keep it today, when we count just about 200 members? We are weighing the pros and cons, and the team of active members will probably be renewed at the outcome of the discussions.
In this prospect, not knowing if I will sign the next leading article, nor which role I will play within the MFPP in the coming months, I would like to thank here, among my predecessors as presidents, Michel Ronsseray, Alain Georgeot and Jean-Claude Vanzut for their friendly support in the board of administrators. And I also respectfully greet Jean-Claude Correia, the most faithfully reader of Le Pli. I am thankful to him for his kind welcome, and I would like to express my gratitude for the marvellous human experience that I was granted to live in the association that he founded in 1978. And the story goes on !
Viviane Berty

Vous devez vous enregistrer pour télécharger le supplément en ligne.