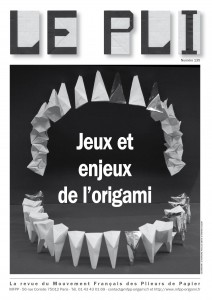 Articles
L'origami selon Muneji Fuchimoto par Jean-Christophe Hélary
L'origami à l'intersection de multiples domaines de création Interview d'Étienne Cliquet
Hue Cocotte, à cheval ! par Michel Ronsseray
Diagrams
Blocs soufflets de Toshikazu Kawazaki
Muraille d'Aurèle Duda
Hitchcock de Lucien Derainne
Dimétrodon de Raphaël Maillot
Dent d'Étienne Cliquet
Online supplement
Horse and Rider, diagrams drawn by Joan Sallas in 2002 from the models by Carl Adolf Senff (1785-1863)
Pre-decorated templates drawn by Jacques Arcambal, to be printed and cut square to obtain decorated models ready to manoeuvre.
Editorial: Fun with origami
Will origami one day become serious business? In a more or less distant future, will prestigious Origami Schools appear everywhere on the globe? Will it be possible to earn a lot of money with origami? For some this is a dear wish and a dream to pursue. Others do not bother about such considerations and make the most of what origami offers best today : the pleasure of letting your hands play with paper… and never take it too seriously !
Paper Toys
From the homeland of the most elaborate video games comes a pleasant discovery presented by our correspondent in Japan, Jean-Christophe Hélary : Muneji Fuchimoto's origami. This origami artist designs models for his children based on their favourite super robots and super heroes. He even adds playing rules to the diagrams as, after folding is complete, children can play with the paper figures and leave to their imagination the power to create infinite worlds… Also, thanks to Inspector Dupli, whom we welcome back in this issue, we learn that 19th century children and even recovering European soldiers played likewise folding "hobby horses" and their riders !
Origami is not a specialism
In our highly specialized magazine, this sentence can seem contradictory, absurd even! Nonetheless, Etienne Cliquet invites connoisseurs not to limit their view on origami as specialists would do : he helps us to see better in which unexpected and multiple areas origami finds its place in today's world.
From maths to poetry
The relation between maths, geometry and origami seem natural. It brings to mind tessellations, modular structures and their abstract beauty. If we want to find a lively and poetical expression, it seems more logical to turn towards modelling, test different material, anything that can free us from the straight restraint of the fold, and try to imitate nature better, following in the footsteps of Akira Yoshizawa or Eric Joisel… However a third path exists that keeps the initial constraints of "genuine origami", as Jun Maekawa called it, through which mind games and all kinds of emotions can be expressed. Among these poetical games, Aurèle Duda tells us how Toshikazu Kawasaki and the literary group OuLiPo inspired him his "Muraille" (wall) model. We are here thankful to M. Kawasaki who kindly allowed to translation and publication of his diagram "Blocks" in our magazine.
New folders
We are pleased to welcome in our pages a piece from the young Raphaël Maillot who has just published his first book (see p.20).
We have also learned to know Lucien Derainne, another young folder with already a solid experience and an active member of the francophone origami forum pliagedepapier.com. Here is for you to fold a silhouette of Alfred Hitchcock, a 2-dimension model not short of appeal in this age of challenges for complexity. Lucien will be our guest at the Rencontres de Mai 2015 in La Rochelle, were he will be teaching another 2-D model with remarkable technique : Chaplin's silhouette.
The editorial board of Le Pli wishes you a Happy New Year 2015.
Viviane Berty
Please register to download the online supplement.