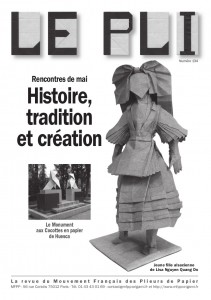 Articles
Rencontres de Mai : Colmar Trois-Épis 2014
Le Monument aux Cocottes en papier de Huesca par Juan Gimeno
Elsje van der Ploeg : un ange de l'origami par Michel Grand
Compte-rendu de l'inventaire de l'orithèque par Christophe Curat
Histoire de l'origami (3e partie) par Guillaume Denis
Diagrams
Pepi envelope d'Elsje van der Ploeg
AnGelope de Michel Grand
Jeune fille alsacienne de Lisa Nguyen Quang Do (CP commenté)
Voilier d'Alain Georgeot
Lett-heart de Michel Grand
Coiffe alsacienne de Viviane Berty
Online supplement
Papillon de Viviane Berty
Épis de blé d'Aurèle Duda
Overview of the Stamp in tribute to Michel Grand, edited by the MFPP.
Editorial: Origami and its symbols
First of all, I would like to thank the team of volunteer editors who once again produced good work. This issue comes with a little delay, however I am sure its contents will not disappoint you !
Rencontres de Mai in Alsace, 20 years after
Origami Alsace, the local organisation that hosted this year's international gathering, is a group of paper folders that came together 20 years ago following the Rencontres de Mai 1994. We all rejoice at this long-term vitality of Origami in France, even if we find that our art still lacks acknowledgement among the general public. In this respect, the open-day at the Maison d'Accueil Notre Dame des Trois Epis contributed its share to the cultural spreading of paper folding. Hundreds of visitors enjoyed the varied exhibits of splendid models from all countries.
We shall find more echoes of these rich exchanges, renewed every year, in several of the coming issues of our magazine. Our 4 guests, Carmen Sprung, Joan Sallas, Juan Gimeno and Michel Grand, creators of models and historians of the paper folding, have a lot more to share with us.
The Monument to the Pajarita
Juan Gimeno presents a gripping text about the monument to the Pajarita that is visible in a Huesca park near Zaragoza, Spain. This unusual piece is a creation of Spanish artist Ramón Acín (1888-1936), and we will learn what Origami represented for him.
Young rising artists in France
The MFPP's 2nd international contest brought happy surprises, including the revelation of this previously unknown young folder : Lisa Nguyen Quang Do. She drew herself expressly for Le Pli a richly commented Crease Pattern of her delightful model of a young Alsatian girl in costume, first prize winner of the contest.
Elsje Van der Ploeg & ELFA : the story of a friendship
it is with great sadness that we learned of the passing of Elsje. Michel Grand pays tribute to his long-time friend.
European origami Book
After over a year of exchanges and preparation, the first European book of origami is finally published. We hope that many other fruitful projects will follow.
The life of the association
For the third year running, a team of volunteers worked together for a summer week of stock-taking and renovation work at our head-quarters rue Coriolis, Paris.
The members of the Committee have started considering the future of our association's headquarters : the space needed for our steadily growing Oritheque has reached its limits, and the premises are hardly inviting (in spite of all the efforts of the volunteers) due to its slowly succumbing to ravages of time. Let us keep in mind that we have been renting the place since the 80's. How Time does fly! Decisions will be made during the coming year.
New development on the web site
To new pages have been created : Diagrams for download and a calendar of events. The Members' area now allows you access to Le Pli's digital supplements, documents regarding the association and the members list (please do not distribute outside the MFPP's circle). To join now the MFPP Online : http://mfpp-origami.fr, rubrique Espace membre/S'enregistrer
Viviane Berty