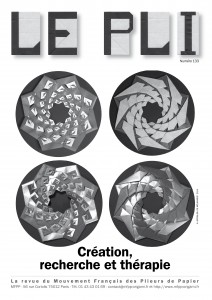 Articles
Mon chemin vers la guérison par Ronald Koh (Traduit de l'anglais par Claire Landre)
L'origami des tessellations Entretien avec Christiane Bettens alias Mélisande*
Sur la conception de variantes par Hans Dybkjær (Traduit de l'anglais par Claire Landre)
Histoire de l'origami (2e partie) par Guillaume Denis
Diagrams
Pelle à poussière de Ronald Koh
Spirale de Christiane Bettens
Mauve de Hans Dybkjær (avec variantes)
Editorial
In the head of a paper folder
"No one invents a geometric model"
It is with these words, quoted from Vicente Palacios, that Christiane Bettens (on the Internet a.k.a. Mélisande*, with asterisk) introduces the tale of her first steps in Origami.
Origami is above all a practice : one learns techniques and movements, one discovers various aspects of the same model… several ideas come to mind, one tests, one meets other folders, all this flows around the "creation", this sacred and magical word, that perhaps hides the best part of the folder's experience. How did Christiane come to join the tessellations enthusiasts? Where does this term come from? What are the particularities of this technique? In answering all these questions, she opens for us the doors to this branch of paper-folding. And if you don't know them already, to complement this interview, we invite you to visit her very beautiful Internet photo gallery, as well as her blog
Theme and variation
In describing the steps of a research to develop variants to a geometrical flower model, Hans Dybkjaer, a Danish folder, lets us into the creator's workshop where much thinking and working is done. The creation process does not appear as an untold mystery, but rather as a systematical approach to possibilities. Starting from a single model, we end up with a varied bouquet and the vase as well!
The benefits of origami on the folder himself
This is a rare testimony that we discover in this issue (in a translation by C. Landre). Ronald Koh, a folder from Singapore, recovered the necessary energy to start brain reeducation following a stroke, thanks to origami. This original means even inspired other patient and even the medical staff. Many folders have experienced the nurturing and therapeutic effects of origami, however only a few have been able to express this with such perspicacity and strength.
As a complement to exhibitions and photos that contribute to spreading origami in the world, we are happy to give the floor to folders in our Le Pli magazine, for further insight.
The Rencontres de Mai are approaching! This year, in Trois-Epis near Colmar we will be welcoming the origami historians. This is a title I bestow on them today, even though they have not received it from any institution (they do not yet exist!) : Michel Grand, Juan Gimeno, and Joan Sallas. Folders, creators, they will teach their works while drawing us into historical talks. We will also have the pleasure to receive Carmen Sprung, to teach us her geometrical models well known for the delicacy and feminineness of their features. She will also share with us her views on origami and geometry.
Happy reading !
Viviane Berty