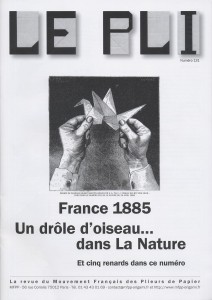 Articles
Les trésors de l'Orithekh. Le retour de Christophe Curat et François Dulac
Les secrets des créateurs d'origami : Naomiki Sato d'Ilan Garibi, traduction de Claire Landre
Avis de recherche (The Flapping Bird) de Christophe Curat et Michel Grand
Diagrams
Mister Fox de Sébastien Limet
Renard de Jean-Michel Lucas
Mister Fox de Sébastien Limet
Always together de Barth Dunkan
Renard porte-carte de Christophe Curat
À quoi pense le renard ? de Michel Grand
Editorial : Origami through time
History
The Flapping Bird is certainly one of the most surprising and poetic among the traditional models that never age. We will follow Michel Grand, a.k.a. Zorrorigami, on his quest for the first sighting of the model in European publications.
News
This last summer, you have perhaps visited the exhibitions in Reuillé-sur-Loire (Eric Joisel's work exhibited at the 9th Art Biennal) or at the library of Chateaudun (Sébastien Limet and Victor Coeurjoly), or even at the Espace Japon, Paris (The exporigami 2 brought together Naomiki Sato, visual artist Jima, and two Japanese folders inspired by Naomiki's work). In this issue, we present with his kind permission Ilan Garibi's interview of Naomiko Sato, the most French of Japanese folders who has been vice-president of the MFPP for several years.
To celebrate the autumn, we asked 5 French folders for a fox each. In the many origami challenges and competitions that have lately sprouted around the globe, the models are usually presented through photographs. In our Le Pli magazine, we wanted to compare models directly from the diagram.
An insight into the future
Following the European congress in Zaragoza, a small number of representatives of European associations gathered for an informal meeting during the autumn B.O.S. convention in Edinburgh. In a relaxed and friendly atmosphere a tangible project came to life : publish together a European origami book. Each participating country will provide 5 diagrams.
Last but not least, we now know the location for our next Rencontes de Mai : 29 May - 1 June 2014 in Colmar-Trois Epis, France.
Looking forward to meeting you all there !
Viviane Berty