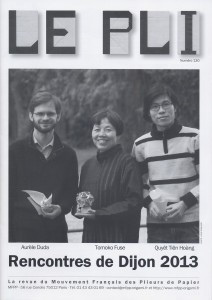 Articles
Les Rencontres de Dijon, c'était chouette ! de Cécile Géniez
Ma première convention de Mathieu Lahore
Le papier à fleur de peau Conférence de Quyêt Tiên Hoàng
Plier passionnément Conférence de Tomoko Fuse
À côté de la feuille Conférence d'Aurèle Duda
Saragosse 2013 d'Alain Joisel et Nicole Egels
Premier Congrès Européen d'Origami à Saragosse de Viviane Berty
Symphonie du papier plié en 3 semaines Partition à 4 mains de Claire Landre
Diagrams
Étincelle électrique de Tomoko Fuse (CP)
Plume d'oie de Quyêt Tiên Hoàng
Babar Cool Letterfold de Michel Grand
Glyptodon de Lucien derainne (CP)
Patelles d'Aurèle Duda
Online supplement
Symphonie du papier plié en 3 semaines Partition à 4 mains de Claire Landre (Récit d'un origamarathon, texte intégral)
Editorial: The Spring of Paper folders
This entire issue of Le Pli is dedicated to the folders who could not attend the three major European Origami Conventions that this year took place in Zaragoza, Spain; Weimar, Germany; and Dijon, France. For them, we gathered together diagrams and the transcription of the many-sided thoughts that were exchanged throughout the various meetings and lectures.
Over 20 years after her first visit to the MFPP in Paris in 1991, Tomoko Fuse honoured us with her presence in Dijon at the sides of the young Vietnamese virtuoso Quyết Tiến Hoàng and French visual artist Aurèle Duda. Three major artists with contrasting styles, whose human qualities certainly gave the Rencontres de Mai a particularly warm and friendly atmosphere.
The 94 participants were greeted in Dijon by the volunteer members of "D'un Pli à l'autre" association and their president Valentine Pélissier. They came from all over the country and abroad to learn, teach, find old friends and meet news ones. We were very happy to celebrate the birthdays of Claudine Pisasale, who has been our European ambassador for many years, and Simone Pfister, who regularly comes to the Rencontres from Swizerland, whereas new comers shared with the regular attendants a fair harvest of discoveries and emotions.
Following a nice idea by Taki Girard, the MFPP contacted the Museum of Natural History of the city and organised, in partnership with the pliagedepapier.com forum, an international paper folding contest on the "Glyptodon", this strange and nevertheless endearing prehistoric animal (you can read all the details on our web site www.mfpp-origami.fr). We praise the quality of the pieces entered for the competition. Éric Vigier won first prize with his ambitious project of a tessellated armoured shell, Naomiki Sato received second prize with the unique idea to portrait the animal with a rose bouquet, and finally a new refined model by Sébastien Limet was granted the third prize. We publish here the detailed and commented Glyptodon CP by Lucien Derainne, a young and promising French creator with good technique and a penchant for poetry.
Summer is coming soon ! This year again we are planning a new week of stock listing at the Oritheque and some small improvement works at our Rue Coriolis headquarters. Have nice holidays, and we will see you again in September for new projects.
Viviane Berty.